Sugarpunch coloured trichomes
Pink and purple colours to find in the end of flowering
Killingfields cannabis purple trichomes
Madberry close up from trichomes
Amber and pink trichome heads from Sanniesseeds madberry
Macro shot from cannabis root hairs
Root hairs growing into soil
Selene trichomes
Back from selene cannabis leaf
Killingfields trichomes
Selene seed
Selene seed bursting out of her shell
Bend trichome from Herijuana
Trichomes in later stage of flowering
Shot with 20X microscope objective and stacked from 150 pictures
Selene seeds still in the pistil
Single trichome getting milky
Shot with a NIkonD800 and 20X magnification microscope objective and 125 pictures stacked into one.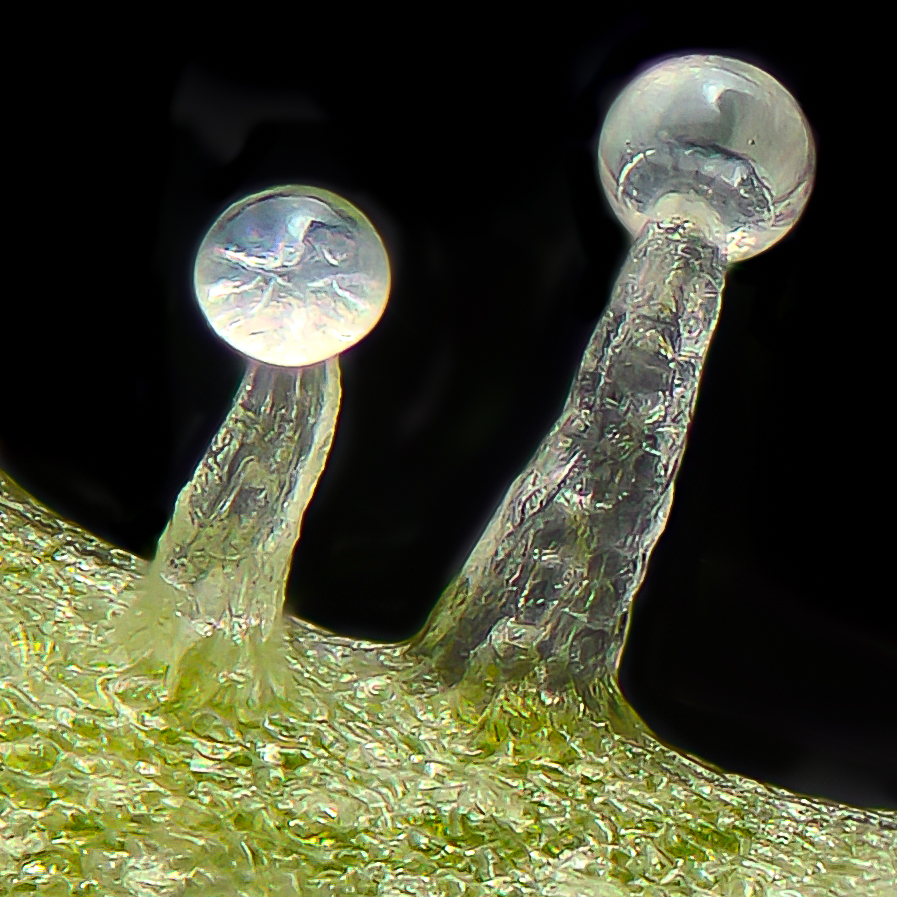 Sannie's Jack trichomes in end of flowering
Sanniesjack trichomes after drying
The circle of trichomes
Trichome party on our Madscientist
Just sprouted seedling with rain drops
Madsceintist trichome in early flowering period
Cannabis trichomes macro
Twin cannabis seeds
Seeds bursting out there shell and shows how it is attached
Cristal trichome
Glass looking trichome with small bit of pink colour in trichome-head
Motherlode bud shot
Lower bud from Motherlode shot from down under and still loaded with crystals.
Sugarpunch goodness
Just so pretty it is addicting to make pictures from this strain
Circle of trichomes
The gate to goodness
Cannabis gate to beautiful things
Mickey Mouse trichome head
I love those freaks of nature
Reflection in trichomes
Reflecting trichomes in trichome head, the more into flowering the more milky the heads will be.
Sugarpunch coated in resin
Double trichome head
Cannabis seed close up
single cannabis trichome
waterdrop reflection
Cannabis seeds
Cannabis seeds with reflection
Sprouting cannabis seeds
Brown cannabis seeds
Trichomes mad from glass
madchem trichomes
Waterdrop cannabis leaf
Sprouted cannabis seeds
Bursting cannabis male flower
Germing marijuana seeds
Cannabis seeds depth of field
By stacking photos I create a bigger depth of field
Madberry dried nugget
Tigered cannabis seeds
Cannabis seed reflection
Island of seeds
Waterdroplet surrounded in trichomes
Trichomes reflecting in water drop
Cannabis seeds as far as the eye can see
Motherlode seeds on a bed of trichomes
cannabis seeds around dried sugar punch nugget
Sanniesjack seed in 12 year old bud
Look at the orange trichomes after curing 12 year
Double seed cover with trichomes
Purple Killingfields trichome
Sugarpunch seed sack
Green and pink coloured sack to protect the seed
Trichomes from Madberry
Trichomes that looks like glass
Selene seed cover
Selene regular cannabis seed sack covered in trichomes